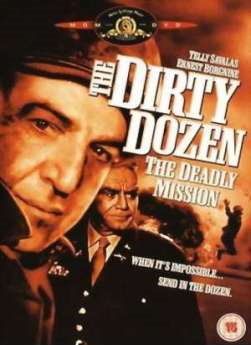 The Dirty Dozen: The Deadly Mission is a 1987 made-for-TV film and is the second sequel to the original The Dirty Dozen. It features an all-new 'dirty dozen,' this time under the leadership of Major Wright (Telly Savalas), playing a different role than in the 1967 film.
Learning of a Nazi plot to attack Washington, D.C. with a deadly nerve gas, Major Wright leads twelve convicts on a suicide mission deep into occupied France to destroy the secret factory where the poison is made.
Pages in category "The Dirty Dozen: Deadly Mission"
The following 16 pages are in this category, out of 16 total.
Ad blocker interference detected!
Wikia is a free-to-use site that makes money from advertising. We have a modified experience for viewers using ad blockers

Wikia is not accessible if you've made further modifications. Remove the custom ad blocker rule(s) and the page will load as expected.