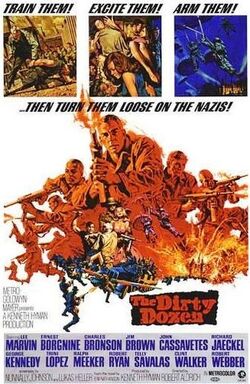 The Dirty Dozen is a 1967 American war film directed by Robert Aldrich, released by MGM, and starring Lee Marvin. The picture was filmed in the United Kingdom and features an ensemble supporting cast including Ernest Borgnine, Charles Bronson, Jim Brown, John Cassavetes, Telly Savalas, Robert Webber, and Donald Sutherland. The film is based on E. M. Nathanson's novel of the same name that was inspired by a real-life group called the "Filthy Thirteen". In 2001, the American Film Institute placed the film at number 65 on their 100 Years... 100 Thrills list.
Pages in category "The Dirty Dozen 1967"
The following 16 pages are in this category, out of 16 total.
Ad blocker interference detected!
Wikia is a free-to-use site that makes money from advertising. We have a modified experience for viewers using ad blockers

Wikia is not accessible if you've made further modifications. Remove the custom ad blocker rule(s) and the page will load as expected.